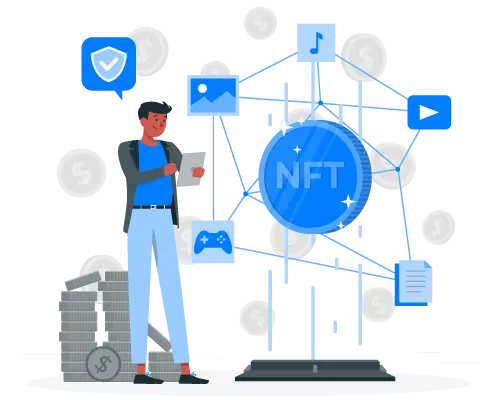 WHY DO WE NEED TO CREATE AN NFT AGGREGATOR MARKETPLACE ?
Throughout the world a vast variety of marketplaces available where creators itself can list their assets and the users can buy those assets. A breach is developed between the art creators and the collectors, due to the lack of communications between the marketplaces.
By making use of an NFT aggregator, you can overpass such gap by providing a flawless platform to users where they can access the complete crypto market As NFT marketplace is a quiet new market possessed with immense potential to have a growth in the future. ASSETFINX greatfully succor you to launch an aggregator where the users can able to receive the core knowledge of the market,better trading and to gain experiencein purchasing with great efficiency.
NAILED CHARACTERISTICS OF ASSETFINX NFT AGGREGATOR MARKETPLACE
User Profile
We welcome every single user to our NFT aggregator marketplace so that they can be abled to create their own profile according to their's. In that, their digital artwork and futher other informations are displayed over here.
Personalized Suggestion
With our NFT aggregator marketplace personalized NFT suggestions are provided to each and every user according to their wish and browsing history.
Compare Prices
Users can contrast the costs for gas fees, commissions, royalty fees and other costs of various NFT marketplace all together with Assetfinx NFT aggregator.
Single Platform For All
Customers can gain information about the NFTs on a single platform. This is happens through ASSETFINX NFT aggregator marketplace. Just log in to one platform to buy, sell, trade, or gather information about the current NFT market trendings and data.
Modern Search Filters
Our panel of experts makes use of some advanced filters such as high price, low price,latterly listed, trending and the most favoured for the efficient browsing of NFTs categories.
Integration of Wallet
If you prefers to go with a well known NFT wallets such as Metamask, Coinbase, Math wallet, Alpha wallet and so on, our NFT aggregator supports you. Another interesting fact is ,multi wallet integration makes the users to create, govern and to trade NFT in easiet manner.
MAJOR FEATURES OF ASSETFINX NFT AGGREGATOR MARKETPLACE
Centralized Dashboard
Admins rule the each and every corner from selling,purchasing, NFT listing and other marketplace aspects through single window absolute instinctual window
Profile Management
Retrieving of data about any of the registered users with the platform,is performed through the efficient admins to maintain systematic management .
One Time Fee Or Charge Commissions
For every transactions on NFT aggreator platforms admins sets the fees structure or to make charges for sign-in from users.
Manage Notifications
To keep the users of the admins with the recent updates or with the latest trendings in the NFT world ,Push nofitications creates a systematic way.
Manage NFT Categories
Listing of digital asstes under different categories by admins leads to the efficient management of the platform.
Manage Advertising
All the promotional and advertisements activities NFT aggregator platform is maintained by the admins.
ADVANCED FEATURE OF NFT AGGREGATOR
Lazy Minting
ASSETFINX provides NFT aggregator platform which you can Mint your NFT without paying 'Gas Fees' upfront with the lazy minting feature.
Set Royalties
Royalty is nothing but a certain amount the owner will receive when they sold there NFT/assets. where Creator can make setting of royalties such as 10,20 or 30 percent on each NFT and receive them when sold.
Smart Contracts
Smart contracts are designed for business trust using blockchain technology. It is more reliable, highly secure
Blockchain Support
ASSETFINX provides you NFT aggregator marketplace which support multichain technology like Ethereum, Polygon, and Binance Smart Chain.
Third-Party App Integration
To upgrade and boost your sales and to reach a large audience you can use third-party apps like CRM, Analytics,eMail campaigns and etc..
Multi-Payment Option
For NFT buyers or collectors in worldwide it provides easy Payment options like debit cards,crypto wallets, and credit cards payments.
VARIOUS MARKETS ASSETFINX NFT AGGREGATOR CATERS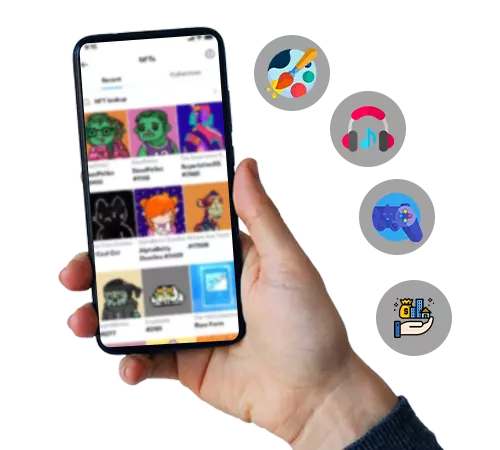 Art
convert your Unique digital artworks into NFT with NFT aggregator platform it will give Access to artists worldwide to trade your NFTs.
Games
ASSETFINX provide gamers a platform to buy and sell their favourite nft assets such as Characters,weapons (Gun),rare skin,collectibles,and others.
Music
Hey here! you can Convert your best-loved audio into NFTs.showcase your nft in marketplace and avoid theft with help of our secured aggregator platform.
Digital Assets
Drop your High special ,unique digital assets like a rare photography ,Artworks,etc on our aggregator platform and get a good sale on all popular NFT marketplace.
Sports
Treat for Sports cultist,fans and collectors. Our NFT aggregator serves here to trade there sports tokens like famous sports moments clip, sports accessories and sports cards .
Real Estate
Great form of Asset is land ,yes Assetfinx also provide NFT aggregator marketplace for tokenizing virtual lands and make them more worthy by trading on NFT marketplaces.
Domain
Hey! your users wanna to mint, trade ,buy and sell domain names with the security of blockchain technology, here Our NFT aggregator marketplace provides a platform for you.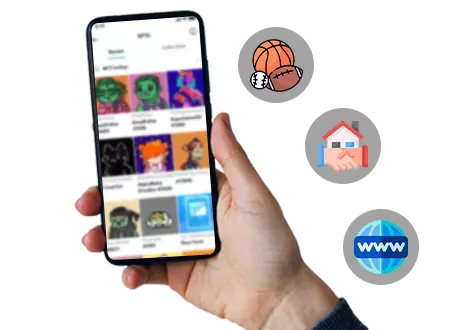 Benefits Of NFT Aggregator Marketplace
Liquidity
you can gain more liquidity options with NFT aggregator marketplace ,its serves many beneficial for users and content creators . "All in one in a our hand" is NFT Aggregator platform it gives way for minting and accessibility and liquidity for users.
Convenience
Some users will trade at certain period of choosen time they can access NFT markets without searching thousands of marketplaces. So to compare price tags and gas fees charges it is very easy.
Accessibility
Most commonly NFT marketplaces keeps full trust or confidence on BTC and ETH for payment transactions. as like that for ease payment and royalty earnings You can offer the same features to NFT marketplaces, customers, and artists.
WORKING OF NFT AGGREGATOR MARKETPLACE
ASSETFINX serves you to develop and launch NFT Aggregator Marketplace to assist both new and existing NFT creators and buyers by accumulating data from all popular NFT marketplaces into one platform.
Analyze
With our NFT Aggregator platform, buyers can analyze NFT market scenarios, latest NFT sales, compare NFT performance and market trends.
Search
Use our advanced filters to browse our various NFT collection from music, arts, sports,photography etc.
Buy or Trade
After analyzing the NFT market, a buyer can purchase and even sell their digital assets through our Aggregator platform.
Compare
With our NFT Aggregator platform, sellers can compare minting prices, royalties, and others before listing their digital assets.
Mint
Compare all the NFT platforms, creators can mint their digital art with lazy minting, set royalties, and create a virtual asset collection.
List
Creators can choose to list their digital assets with our NFT aggregator platform and sell their assets on different NFT marketplaces.
HERE WE EXPLAINED LIVE FLOW
Connect Wallet
There are many Wallets like MetaMask, Ethereum, Enjin, Trust Wallet, Coinbase Wallet, AlphaWallet. by using any one from this your users have to set up a wallet before login on the platform.
Profile Creation
Going to next is to allow customers and marketplaces like OpenSea, Axie Marketplace, Rarible, and others to create accounts. Create your profile with required information based on the followers and users.
Explore and Buy Collectible
Here users will have options like Ocean they can dive and explore into Different platforms. It helps to compare the prices of same artwork and buy a Asset at competitive fees like gas fees.
Wallet Payment
Once user decided to purchase there favourite artwork,they will take to the payment part user will pay through their wallet and get a right of NFT transfer to themself.Through smart contracts all transactions get secured.