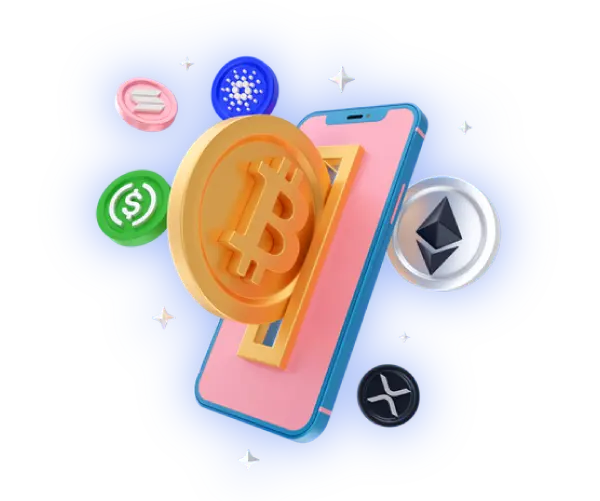 White Label Crypto Exchange Development Company
First and foremost thing is that, A crypto exchange platform intended for trading with cryptos for other assets. Meanwhile, Assetfinx White Label Crypto Exchange is a custom-tailored platform which is modified according to the stunning requirements of the clients similar to the specified framework, user-friendly UI, security features, brand labelling, with real time updates and reasonable cost. Altogether, such features creates an emphasis among people to elevate the trading of cryptos for other assets. Kick-start your market with our improvised white label exchange software which enhances your success rate to a tremendous extent.
Assetfinx covers all over the regions of the world by serving them a safe and stable digital asset trading system and empowers the exchange platform with blockchain technology. Assetfinx has 50+ technological security guarantees, separation of hot and cold wallets.
Core Trading Modules
Assetfinx digital asset trading system covers certain core trading modules such as coin to coin trading, peer-to-peer crypto exchange or Peer To Admin Exchange, etc.

Coin to Coin Exchange
Trading becomes more fascinating and interesting when it comes between a crypto to crypto exchange (COIN TO COIN). One can easily trade BTC for ETH and other cryptos.

P2P Cryptocurrency Exchange
Exchange of cryptocurrencies (BTC to ETH) among the individuals directly without the involvement of unbiased observer to ease the transactions.

Peer to Peer Admin Exchange
The Exchange operator (owner) has the authority to establish the bitcoin selling and purchasing prices. Traders are permitted to trade at the set price rate.
Features Of White Label Crypto Exchange Software

Integration of liquidity
Integration of liquidity plays the key role in encouraging the point to point use which has been provided in our platform.

Wallet integrated
The availability of an integrated wallet simplifies the modes for participants to successfully use the Platform for transacting.

Automated KYC/AML
KYC and AML are two processes that must be completed before any Crypto product can be developed. Our product is well-known for promoting these qualities.

Multi Coins Support
To attract audiences interested in trading, Assetfinx's White Label Crypto Exchange supports Cryptos from a variety of networks.

Token Adding Tool
The contemporary cryptosphere has a wide variety of cryptos, making it difficult to combine them separately.

Payment Gateway
Our White Label Crypto Exchanges may easily connect any number of payment gateways, eliminating the need to organize an exchange.

Customizable UI/UX
Any cryptocurrency platform's scalability is determined by its capacity to adapt to user preferences, which is made possible by our user-friendly UI.

Staking Module
A Staking module developed by Assetfinx White Label Crypto Exchange offers users several profits on keeping crypto.
Premium Features Of Whitelabel Crypto Exchange

Derivative trading
By purchasing or selling derivative contracts, traders bet on the price movement of an item in the future with the hope of making more money than they would by purchasing the underlying asset outright. Futures contracts, options contracts, and credit default swaps are typical types of derivatives.

Margin Trading
Margin trading lets investors and traders to borrow funds from the broker to buy stocks. The investor is permitted to purchase more securities than he can currently afford with his existing finances.

Escrow Trading
Escrow services are a cash-in-advance choice offered to exporters and importers that lowers the potential risk of fraud, according to the Trade Finance Guide (TFG) of the International Trade Administration. It serves as an unbiased party that gathers, holds, and distributes money according to importer and exporter instructions.

Futures Trading
Users can buy/Sell assets at fixed prices on a specified date or without an expiration date using a crucial feature of our whitelabel exchange software. users can retain their positions appropriately by speculating on the future price of cryptocurrencies using our software's perpetual [ no expiration date ] and quarterly contracts [ Expire every quarter ]

IEO Launchpad
It is a platform for crowdfunding, which allows users to raise money quickly and easily. An exchange with launchpad can get more trust, and can gain attention from global investors. The most popular cryptocurrency exchange, Binance, has an IEO launchpad that goes by the moniker of "binance launchpad."

Spot Trading
Have you ever wondered is it possible to trade cryptocurrencies at real time prices to avoid price fluctuation? Spot trading come as a solution. Spot trading is also known as spot transaction that lets your users purchase or sell the cryptocurrency at real time prices with the goal to generate trading profit.
Why Choose White Label Cryptocurrency Exchange Software?

Reduced Time To Market
Launching an exchange platform always takes a long duration, but with white label exchange software you can launch your platform on date with no big configurations. This instant launch process can create a positive impact on gaining global investors attention at short time.

Reasonable Price
The utmost benefit of purchasing a white label exchange software is "Complete bug free ready to launch software comes at an affordable cost". All the features come as a whole package, at the mentioned prices. The cost may vary based on many aspects like requirements, tech stack, project duration, resource allocation etc.

High ROI Potential
Every business launched with a hope of gaining guaranteed ROI. If you are about to launch your exchange platform, our white label exchange software will meet your expectation, and will result in high guaranteed ROI at an short period of time. Our tech experts will stand with you to meet the targeted ROI.

No Operating Expenditures
You don't need to invest in hiring dedicated employees to customize or fine tune the white label exchange software you purchased. Assetfinx will take cared of the entire process by hiring experts who are certified in customizing the white label exchange software.
Assetfinx White Label Exchange Software Personalized With

Display Buy - Sell Transaction History Of Users
Trade Pairs Management
User Management Options
Deposit, withdrawal and order management
Currency Management and more

Display current account balance
Trade Dashboard to buy and sell crypto
Withdraw and deposit dashboard
KYC Management
Ticket management and more
Compete The Exchange Market

By Launching Your Own White label Cryptocurrency Exchange with AssetfinX