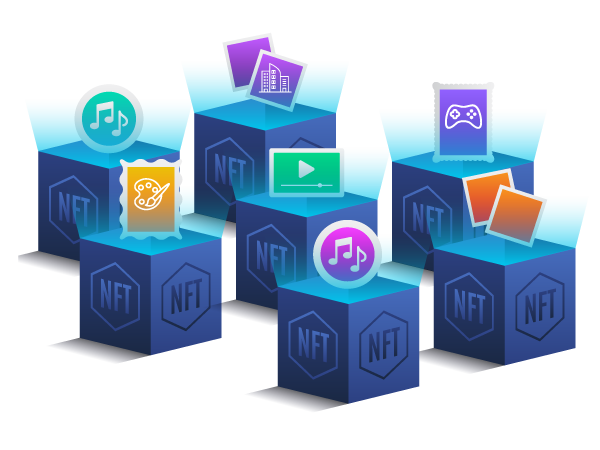 Whitelabel NFT Marketplace Development Company
White Label NFT Marketplace is an absolute tailor-made, completely customized, ready-to-use platform created to list, buy and sell NFTs. Our expert team helps you by offering white label NFT marketplace development service on top of various Blockchains which allows businesses to engage in extensive long-term trading of NFT digital assets. You can acquire intuitive and lucrative white-label NFT marketplace solutions with the help of AssetFinX.
AssetFinX offers you its best White label NFT Marketplace development that includes ideation, personalization, design, and implementation. We have always been successful in providing our clients with a completely functional white-label NFT marketplace that may assist them in achieving their goals. With the aid of our skilled Blockchain engineers, you can quickly create your own unique NFT marketplace.
Decentralized NFT Development
The Decentralized NFT is created utilizing the Decentralized NFT Protocol, a decentralized cross-chain network that permits the trade, minting, and management of NFT assets throughout the blockchain community. NFTs are empowering the digital content creators and the asset holders to grow in an egalitarian environment without any hosting agents.
Aside from developing the NFT Marketplace, we have experience creating end-to-end Defi, DAO, and Metaverse. AssetfinX is a one-stop destination for all your requirements for tokenizing your artworks, music, films, animated gifs, and other assets.
Our Whitelabel NFT Marketplace Development Services
AssetFinX provides Whitelabel solutions for the creation of NFT Marketplaces in a variety of niches including,







PDF / HTML / zip format files





Benefits of Whitelabel NFT Marketplace Platform

Cost-Effective
NFT protocols provide the corporation with the maximum amount of profit by luring sizable marketplaces and enabling frequent optimization.

Authenticity
Platforms for cryptocurrencies are thought to be relatively hazy. However, it is unquestionable that funds won't be sent through NFTs without the required authentication.

Protocol-based Functionality
The contracts are uploaded into repositories that include clear, secure, and reliable codes.

Customized platform
Your business plan can guide the platform's modifications, and add-ons can be created as required.

Scalability
The NFT Marketplace Whitelabel solution aids in controlling the script's add-ons or lowering its present capabilities.

Permanence
The creation of NFTs uses a high-security code that renders the certification unbreakable and enduring.

Future Add-ons
Add-ons can be of any feature or functionality that can be quickly incorporated into the already developed script.

Cross-Chain Connectivity
By providing a cross-chain bridge, NFTs, data, and tokens can move between blockchain networks.

Complete personalization
Here, the development service is customized in accordance with the project's needs and business plan, which is successful and builds customer loyalty over time.
Features of Whitelabel NFT Marketplace
The AssetFinX Whitelabel NFT Marketplace offers cutting-edge features and functions that make it easy to create a platform for your own NFT Marketplace to grow your business.

NFT asset, Minting, Bidding, Auction, Gaming

Wallet Integration

Smart Contracts development & integration

API Integration

Trading Bot

Payment Gateway Integration

Web3 Integration

Launchpad

ICO

Auditing

Airdrops

Royalties

2D / 3D Arts

Animation VFX

AR / VR

Notification
NFT Marketplace Architecture & Components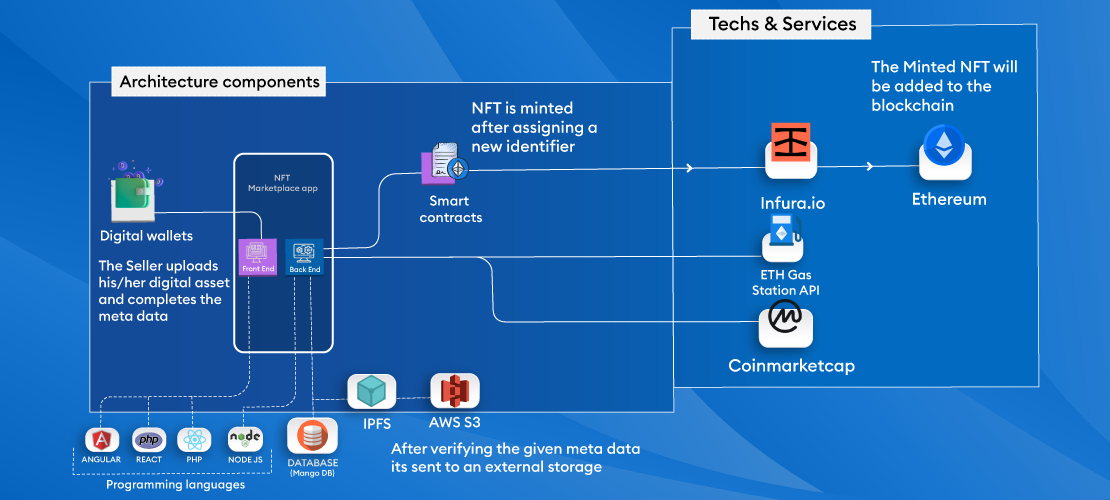 Work Flow Of NFT Marketplace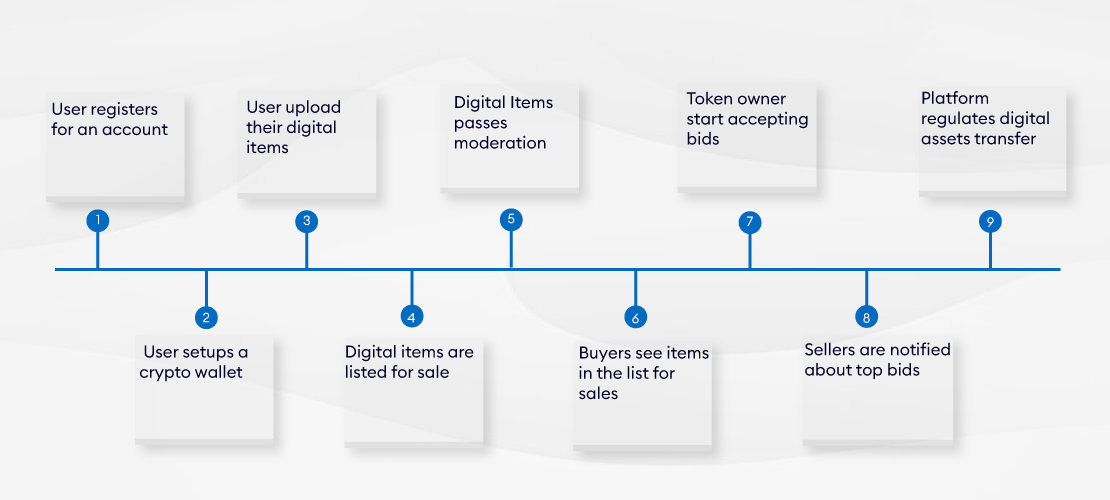 How does White label NFT Marketplace generate revenue?

Listing fee
The listing fees that users pay when they list NFTs on your marketplace increase the platform's revenue stream.

Commission fee
One of the best methods for generating income in the market is by charging a commission for buying, selling, and trading NFTs.

Auction fee
The trading of NFTs in an auction medium provides the NFTs with quick liquidity and allows them to generate income from the market.

Marketing fee
One of the methods to generate income in a market is through service fees that NFT marketing users collect.
NFT Marketplace Development on Various Blockchain Networks
We desired to launch our Whitelabel NFT Marketplace solutions to focus on emerging blockchains like those listed below,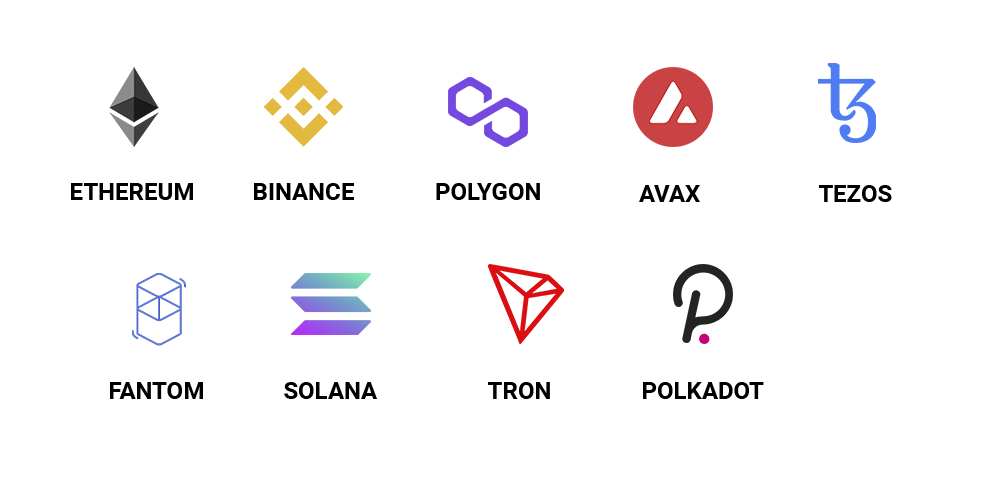 Our Ready To Launch White label NFT Marketplace Clone Solutions

Create NFT Marketplace like opensea

Create NFT Marketplace Like Foundation

Create NFT Marketplace Like Rarible

Create NFT Marketplace Like Cryptopunks
Whitelabel NFT Marketplace Development Process
Whitelabel solutions make it easier to create an NFT marketplace than you might have imagined. Following is the process of creating a Whitelabel NFT marketplace,
Analysis of requirements
Before the development stage begins, the clients' specifications and requirements are gathered.


Develop & Design
Ideas and design patterns are correctly gathered in order to get the desired result.
Testing
After the development stage is complete, the Whitelabel NFT Marketplace platform is tested to make sure there are no bugs.


Deployment
The NFT Marketplace launches in the market and functions more like a blockchain-based distributed ledger.
Why choose AssetFinX for creating an White label NFT Marketplace?
We offer a variety of advantages for the development of the NFT platform,
Decentralized Approaches
Our team of skilled NFT engineers has shifted all reliance to outside sources to keep the solution decentralized.
Superior Security
AssetFinX offers reliable white label NFT solutions with complete protection for users' data & digital transactions.
Complete professionalism
AssetFinX has always treated its clients with professionalism and integrity.
24*7 Technical Support
If clients have any issues, our skilled technical support team is always accessible for clarifying all your queries.
Seize The Potential Of The Million Dollar NFT Space Launching A White Label NFT Marketplace!